Bare Minimum Compressor Size CFM
MidOhioHydrographics
Member, Moderator, Business Ninja
Posts: 10,305
El Moderator
I wanted to create a post because this same question gets asked a ton.
What size compressor?
How much air?
How much CFM?
What do I need to run an HVLP gun for activator?
I wanted a compressor for at home so I can use my spray guns to paint various items around the house. I found a used compressor for $150. It's a 5hp, 2 Stage (I believe...), 60 gallon, Industrial Air brand. Changed the oil, Runs great. It's 3-phase, so have to use my home built phase converter, but so far, I like it. Not sure on the exact CFM of mine, but similar models run about 10.5 - 13 cfm. Links below.
Guys... this size compressor is absolute bare minimum for an HVLP gun. Today I painted some standard sized 6-panel interior doors. I used my Iwata LPH400-LVX 1.5 tip (a higher end, very efficient gun), and since the paint was a Sherwin williams home/trim paint, it was thick and I ran about 42-45psi to get good atomization. When compressor was full at 125psi, I got about 8-10 seconds of spraying and it kicked on and did not stop until I got to the end of my door. It ran continuously. It did fine, but if it kept going? Would've had some steam/water issues. I do have a decent "home shop" filter/dryer setup, which was not cheap, but is absolutely necessary. Below are some photos and links. This works, but I don't think you could go smaller without seeing issues.
Three part filter/regulator system:
https://www.amazon.com/gp/aw/d/B01JNCVYGE?psc=1&ref=ppx_pop_mob_b_asin_title
Motor Guard Filter (these things are awesome, I recommend them as a final filter before the hose/gun)
https://www.amazon.com/gp/aw/d/B000WZYKAE?psc=1&ref=ppx_pop_mob_b_asin_title
And these FlexZilla High Flow Fittings did your hose and gun connections
https://www.amazon.com/gp/aw/d/B01CK42B32?psc=1&ref=ppx_pop_mob_b_asin_title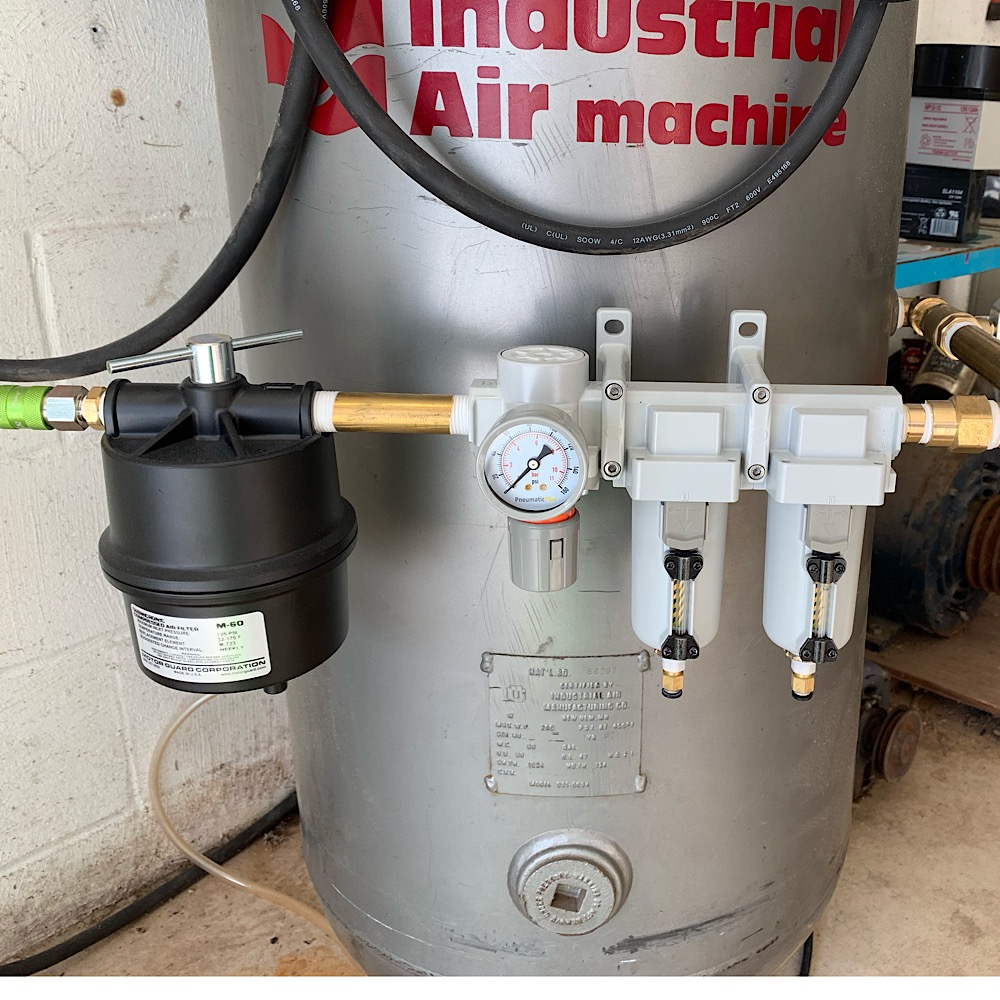 So, in summary, what size will work at an absolute minimum with proper filtration? These will work for the most basic home hobbyist who may occasionally use an HVLP gun for activator or paint. These won't even come close to running a sand blaster.
https://www.lowes.com/pd/Kobalt-60-Gallon-Electric-Vertical-Air-Compressor/1000542193
https://www.homedepot.com/p/Husky-60-Gal-Stationary-Electric-Air-Compressor-C602H/205389936
What size is recommended if you want to start a business?
Here are a couple that I recommend.
Bare minimum:
https://www.tractorsupply.com/tsc/product/ingersoll-rand-80-gallon-5-hp-reciprocating-air-compressor?cm_vc=-10005
Minimum if you need to media blast OR have more than one gun (not blast and spray at the same time):
https://www.homedepot.com/p/Ingersoll-Rand-Type-30-Reciprocating-80-Gal-7-5-HP-Electric-230-Volt-Single-Phase-Air-Compressor-2475N7-5-V/203751639
Recommended for a business with a couple employees and light production:
https://www.tractorsupply.com/tsc/product/ingersoll-rand-2545e10-vp-value-plus-230v-3ph-2-stage-compressor-120-gal-horizontal?cm_vc=-10005
These are just recommendations. What I can tell you from experience.... we have a 10hp 2-stage 120 gal horizontal Emax compressor that gives about 35cfm. We outgrew it when we got our larger sandblaster. A couple guys painting/clearing and a guy on the blaster? You're into a pretty darn large compressor with dryers and filters.
Once again. This process is not cheap whether you are a hobbyist or a full time business.
Post edited by MidOhioHydrographics on