C/G clamps with broad flat soft jaw contacts
shau
✭
Posts: 10
Member
✭
Moderator
@K2Concepts
why did my original discussion get auto-deleted? Whenever I make quick successive edits to a post, your forum software deletes the entire thread thinking that it's a bot or spam! I lost a lot of effort in that thread and one of the other members also posted some valuable input that is now also lost!
In any case, I'll re-write it to keep the discussion going for now:
I'm looking for a quick-release clamp that can be used to secure a flat dipped panel for polishing. It must have broad contact points to distribute the pressure and reduce the chance of marring the recently dipped and cleared surface
It needs to be a C/G shape in other to clear any rims on the underside of the table
I could not find such a product on the market
Context
I'm polishing panels about 0.5m square, but the force of the rotary polisher will displace and send the piece flying
on a small table with a routing pad
Here were the best candidates:
Contact points too small and hard;
Needs to be broader like such:
Similarly, but much cheaper:
Contact points again far to small but really nice C-shape for clearing any table rims on the underside:
So far this is the best:
if only because it has contact pads that can be broadened with their wider adaptor pad (at 1m50s in the video):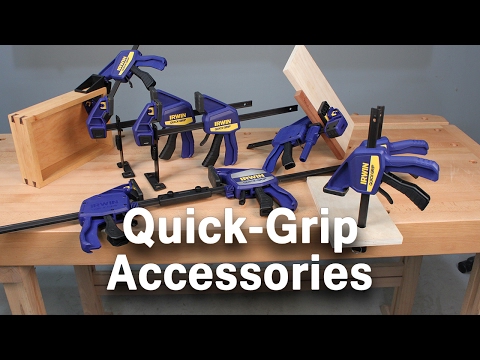 Also in this video:
Yet as the grip was designed for use in wood-working, I reckon the contact points would be too hard and will leave marks on the freshly dipped, cleared, polished surface. Also the grip mechanism is designed like a vice, so it's not just a biting mechanism that holds it in pace but a tightening screwing, vice mechanism which most certainly will apply too much pressure and marr the freshly cleared surface. Especially when you can keep tightening it with no guide as to when to stop.
A helpful member (
@Spinner
) suggested using a sandbag weight that can be re-positioned or raising the perimeter of the table to hold the panel in place, before the entire original thread got deleted by the forum software.
Post edited by shau on