Football Follies Week 13 2016

K2Concepts
Posts: 13,340
Administrator
El Jefe
Man, what a season...heartbreaking for some like me...crazy success for others like Cowboy fan...I can't believe we are almost to the post season...I am already bummed out...but enough of that...let's enjoy what we got left!!!
OK on to week 13 and the big stories like "Where is Tony Romo going to end up?"...Broncos? I say the Bears...what say you? How can Marvin Lewis continue to hold a job??? That one is what I want to know...and the biggest story? Is Derek Carr actually a Jedi?...You decide...
And if he is? Where can I get one of those gloves?...Look for the latest edition of "Carr Wars" this Sunday...(see what I did there?)...
OK onward and downward...this weeks Bag Of Shame goes to...The Bungles...how do you get 4 passes blocked on the last possession of the game with the win on the line...and then FUMBLE?...Are you kidding me?...Yea the Red Rifle looked like the Red Ryder BB gun instead...just like last year...and no Burflict, you can't run into the tunnel with 1:30 left on the clock...you need to play the whole 60 minutes...sorry Bangal fan...too soon?...so here is your Brown Paper Bag Of Shame Bungles...wear it well...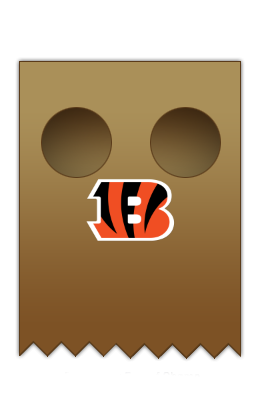 And honorable mention goes to...the Colts for getting their lights punched out by the Steelers last week...what an ugly game that turned out to be...nuff said there...
OK, the rules are simple...post up YOUR FAVORITE TEAM...there will be no flip-flopping here...this is for true fans who live or die every Sunday on the gridiron...this week? The biggest loser wins...Up for grabs is 3 meters of film from Big Brain Graphics...So let's hear it for Dinnetta...
Also as a added bonus? I will match the 3 meters of film for any Business Ninja (paying members only...free trial members do not qualify) out of my pocket as a bonus. So if you are a paying Premium Business Ninja and you win? You get an additional 3 meters of film donated by K2 Forums...that's only the beginning of what I have planned...membership should have it's privileged right?
SO get your picks in and let it begin! Time to start that long walk of shame down to week 16...oh yea...and your picks have to be in BEFORE game time starts...or you will be disqualified...
Let me add here that the smack talk has NOT been worthy for the last week...don't tell me that all you guys can do is download stupid hate pics and post them up...this ain't no FaceBook forum...come on lets get some intelligent smack talk...
LET'S GET IT ON!!!!!!!