Advice on Corvette Engine Bay
smedlin
Posts: 1,995
Member, Business Ninja
✭✭✭✭✭
Background Story
One of my really good friends owns a construction company.
Really great guy, but spends money left and right...but.. his hard yearned money, his right to spend how he (and his wife) want to spend it.
He has lot's of "guy toys". He buys things, then when he gets bored, sells them.
Six or Seven months ago, he bought a 95 Vet
(and almost immediately broke the rear diff, and spent 12K on an upgraded new one!!)
Anyways, he keeps saying he is going to tear the engine down and bring me parts to do in carbon fiber. But just hasn't gotten around to it.
Until now....
Fire
So, he had a wire that was exposed (some mod the previous owner did), and it sparked and started a fire. Was put out quickly, but melted some plastic and the main harness.
So, now he's HAVING to pull stuff...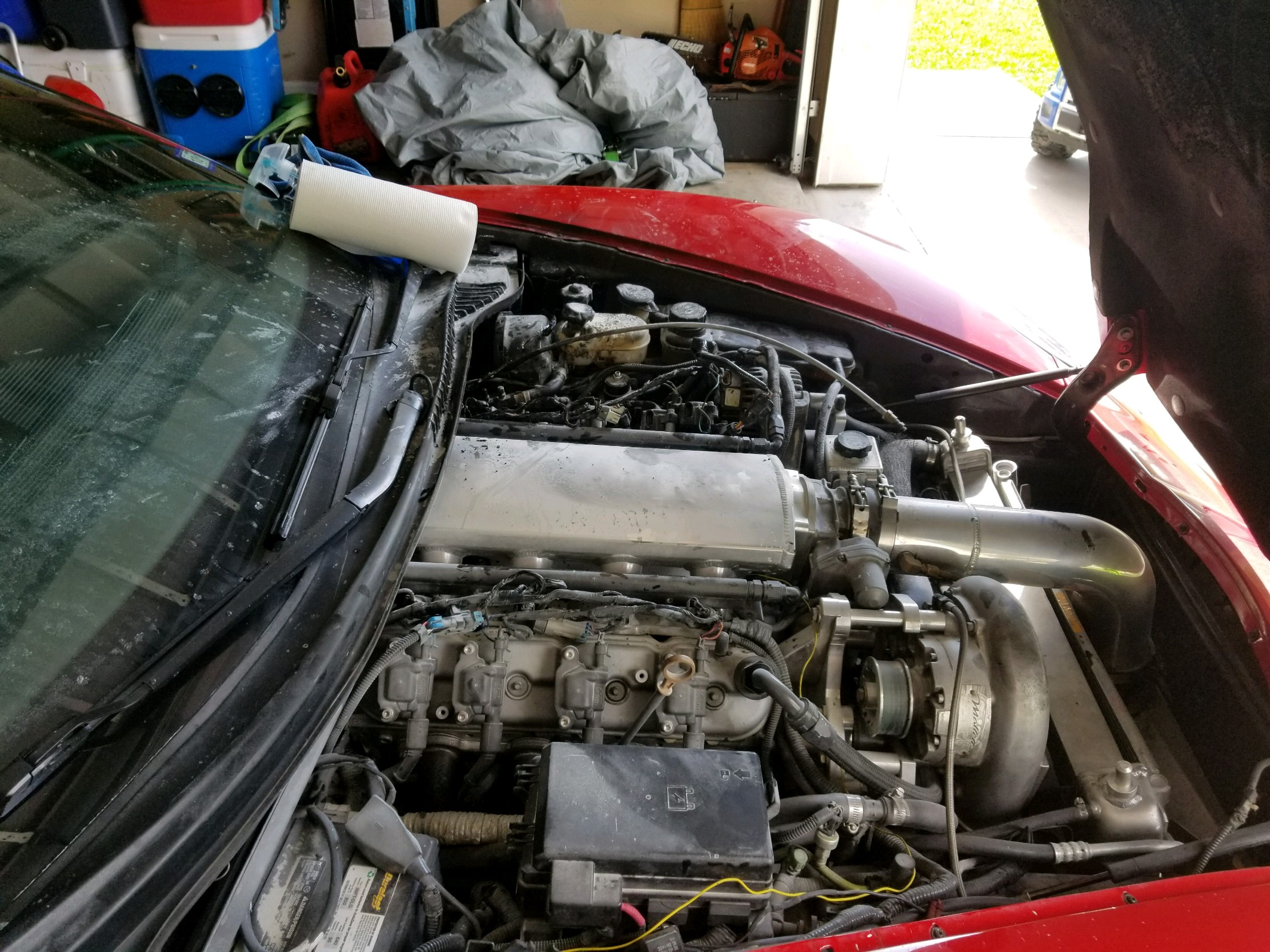 He's already gotten a lot of the "stuff" in, and has started to rebuild it. He's going to replace the hood and have everything repainted.
So, while he's doing this.. perfect time to dip.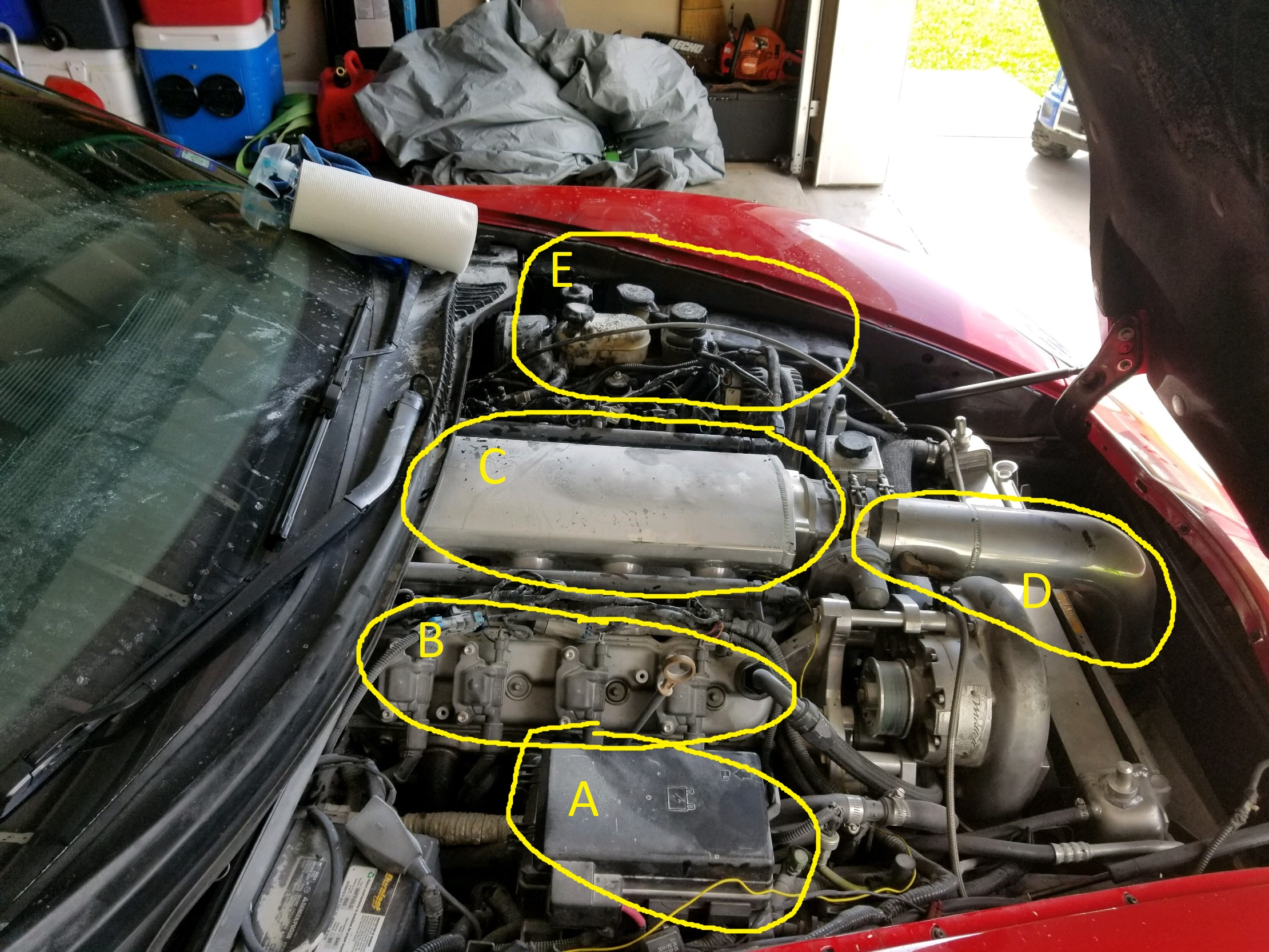 A) Fuse box cover
B ) Valve Covers (one on each side)
C) Intake
D) Turbo pipe
E) Various plastic containers which melted.
While he was ordering things, he picked up a radiator cover "thingy"
I've got everything in my shop cept E, the various plastic containers.
Which Direction to Dip
Well I guess I did that just right then because I went from left to right (towards driver).... Seen some pretty horrible CF dips while looking at photos........lol
I've been looking at a lot of engine bay pictures also. Trying to figure out what to do.
And need some input/advice
I'm thinking about the following.
A) Radiator cover, fuse box cover, various plastic containers - Make the lines "left to right", like this "////"
B ) Not sure about the two valve covers. Should I do both left to right? Or make them point in towards the intake? Like this "/|\" (does that make sense?) Would that look good or bad?
C) Yea, the intake is going to be difficult I think
I did tell him we should break up the "top" of the intake with a design. Something like the Corvette Flag and "Corvette" in red running down the middle.
I think this will be 3 dips.
The top part down to where the line indicated by the arrow. Then the 2 sides.
So, I'm thinking the 2 sides will flow same direction as the valve covers (which are right below this, on each side).
I don't know which direction to run the lines on the top part. I think it may look better with the lines running straight instead of an angle.
Straight up and down? But keep in mind we are going to put letters that go down the middle. Would that look weird?
D) Got's no clue on the turbo pipe thingy. Maybe do a 50-50 dip with each side direction matching the value covers?
----
So (for those that actually read the entire post), I THINK I have a solid game plan.. but don't know which direction to do the top of the intake, and unsure about the big pipe...